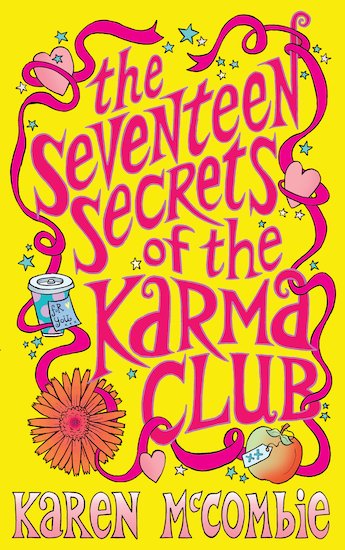 Writer: Karen McCombie
Publisher: Scholastic
Publication date: June 2008
Pages: 256
Edition: Paperback
Recieved: Libary
"Kezzy and Nell have their own club: a secret society for acts of kindness. It's their mission to cheer people up with golden moments and sparkly surprises. But when Kezzy's mum admits a not-very-golden secret of her own, the Karma Club's best intentions start going weirdly wrong. It's starting to look as if no good deed goes unpunished..."
I have read various other books by Karen including: Marshmallow Magic And The Wild Rose Rouge, An Urgent Message Of Wowness, Wonderland, and part of the the Ally's World series, Stella Ect. series and a book from the Indie Kidd series. And I can tell you they were all brilliant! Including this one.
Kezzy meets Nell and they form the Karma Club. They are the only two members, because it is a secret club. They do secret good deeds which they write about in their gold notebook. Some of their good deeds go well, some of them don't...
For those of you don't know what 'karma' is, there is good karma and bad karma. Basically if you do something good something good will happen to you. Or if you bad...etc.
My favourite charcter is Nell, Kezzy's best friend. She is friendly, creative, and loyal. I dislike Tanya, Kezzy's ex best friend. She starts being really mean to Kezzy, and hangs around with spiteful Robyn just to be popular.
It was really good reading about all the good deeds they do. I won't tell you them, so read it! They were really fun and it encourages everyone to do good deeds. I recommend this for all ages!
My only complaint is that more could of happened. I mean, there was a VERY VERY big twist near the end, but more things could of happened at the beginning/middle.
Overall, this was a uplifting read that you are sure to enjoy. It keeps you hooked and makes you want to read more Karen McCombie books.
RATE: 4/5
Click
HERE
to vist the website.
Zoe :c) x